Safari available with WorkOnLinux
Saturday 15 December 2007 at 20:08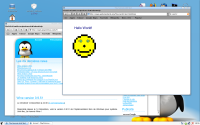 Hello,
I come here to announce a great news for web developers.
You are under Linux since years and you don't know if your website is correctly displayed by Safari? WorkOnLinux is here to save yourself!
Indeed, Safari is entirely compatible with WorkOnLinux, except a little unsolvable font bug. Not really annoying.
Another good news: he is supporting
Flash Player
without any problem.
Conclusion
: Just click on the "update" button in your toolbar

By Tinou