PlayOnLinux 2.2.0, PlayOnLinux-Script-Creator 0.1 Stable: what a number of news!
Sunday 13 April 2008 at 19:45
Hello everybody,
PlayOnLinux's team has great news to announce. We have thought to you all the week-end, working to improve the project.
L'Oréal always tell us "2 in 1", so why not today? Without waiting anymore, here are:
- The PlayOnLinuxScriptCreator (POLSC) 0.1 stable version (by Zoloom)
- The PlayOnLinux 2.2.0 version (by Tinou)
PlayOnLinux 2.2.0
Are you ready to know everything that changed in this version? So hold on! I want to signal that,during this version's development, I lost my ~/.PlayOnLinux folder. I will be more prudent next time.
New menus
Here is what new menus look like: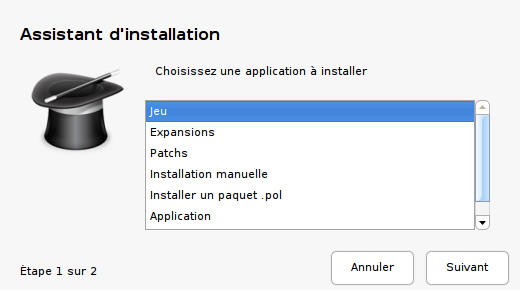 With double-click support, it's more pleasent.
For nostalgics, a new "menu_list" function, which use the old menus, was created.
No more Community and WorkOnLinux
These repositories are now activated as default setting after reproaches of "small game's list" we had.
An automated installer!
No, you aren't dreaming! For non yet scripted applications, and I insist, only for non scripted applications, you can install automatically your CD-ROM. See by yourself.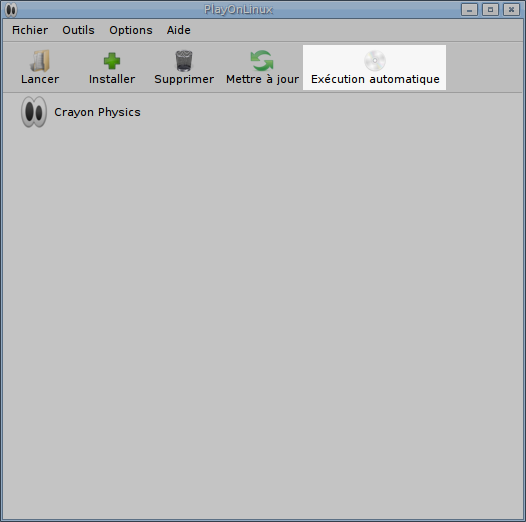 Oh! A new button. Let's try to insert a CD-ROM et let's see what happen!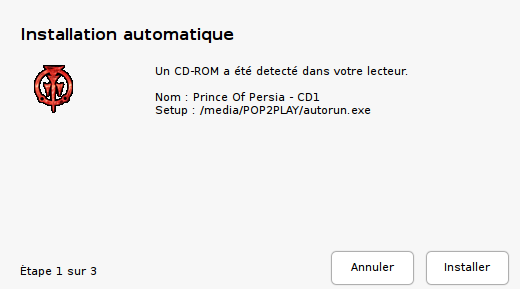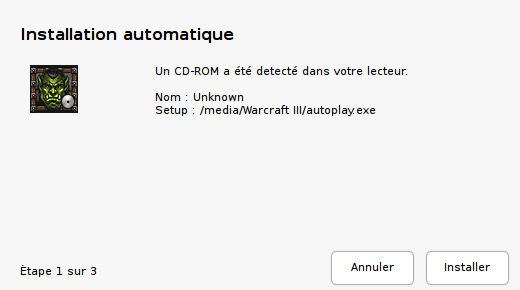 And if I click on "Next"?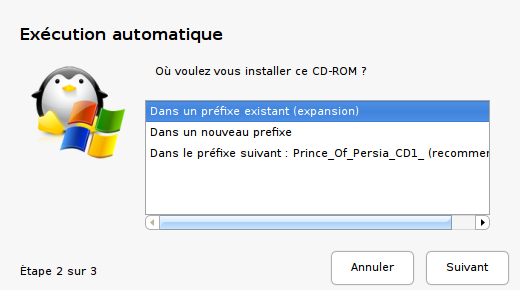 Then, it installs the game. What to ask more?
Ask_For_cdrom modified
Here is what the new Ask_For_cdrom function looks like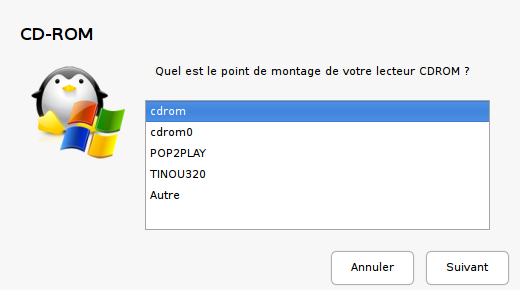 Well, and if my CD isn't mounted in /media?
Just click on "Other" and here is the window which appears: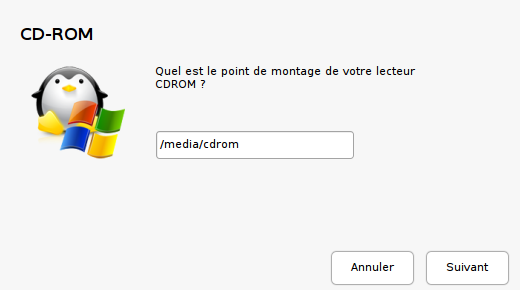 Fixed bugs
- Numerous interface bugs
- playonlinux-pkg --extract is now extracting in a new folder instead of just extracting where it is
- A lot of bugs with Microsoft's fonts, and with the personal directory's creation (you can now use playonlinux-pkg -i without initializing PlayOnLinux before)
Translations
Translation files were updated. Thank to everyone who sent me language packs. I count on you to help me to translate the few new lines of the 2.2 and 2.1 versions for the non yet updated languages.
A lot of commands translated
A lot of commands (for the scripts) are translated in English. MulX is writing a superb documentation for more details about them. Thank to him. Just let him some time to finish it.
Downloads
http://www.playonlinux.com/en/download.html
P.S. We currently have a problem with the Ubuntu/Debian repository. If you are hurried to use this version, just go on the download page :-)
PlayOnLinux Script Creator (by Zoloom)
You can now install POLSC by downloading it at the following address:
Deb:
http://www.playonlinux.com/script_files/ScriptCreator/0.1/PlayOnLinux-ScriptCreator_0.1.deb
Tar.gz:
http://www.playonlinux.com/script_files/ScriptCreator/0.1/PlayOnLinux-ScriptCreator_0.1.tar.gz
According to me, this version is minor, although the beta is now far away. This version's goal was to stabilize the preceding beta version the faster possible, it's now done. Here are the changes:
- A little assistant to create a new script
- Enhanced windows
- Some language mistakes fixed
- More messages in the status bar
- 14 new PlayOnLinux's functions supported
- Adaptation of the code for translation by *.po catalog support
As I was saying, this version is a minor one and, moreover, won't stay at this point a very long time. Indeed, a all-in-one assistant is almost finished, which will be much more complete and will allow you to make a script in about 30s without typing any bash command (the life is beautiful, isn't it?

)
I planned to add some help in the different functions' windows, examples, the few lacking POL's functions (if some are remaining

).
In a future version, I will start the development of a syntax's coloration and a tab system.
A last thing before letting you play in peace, POLSC is still a young project, there is certainly some bugs, orthography mistakes and improvements are still possible, I count on you to help me and I thank you in advance! It help me to make a piece of software which answer to POLians' needs.
I still have matter for work, I go back coding!

Good evening to all, we thank you for your fidelity.
By Tinou