PlayOnLinux's fourth appearance in the press
Wednesday 2 July 2008 at 23:28
PlayOnLinux just make its fourth appearance in the (French) press. (We don't know for the other language papers so feel free to report it to us if it would happen)
We thank "Linux Pratique" for the following article, appeared in their magazine (N° 48) at the seventieth page.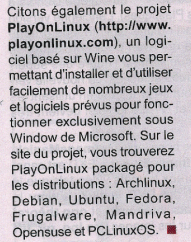 Here is the translation of the article:
Let's mention also the PlayOnLinux project (http://www.playonlinux.com), a Wine based piece of software allowing you to install and easily use numerous games and softwares designed to run exclusively on Microsoft's Windows. On the project's website, you will find PlayOnLinux packaged for the distributions: Archlinux, Debian, Ubuntu, Fedora, Frugalware, Mandriva, Opensuse and PCLinuxOS.
This article had been added to
the press page
By Tinou