Release of PlayOnLinux 5.0 alpha 1
Sunday 23 September 2018 at 21:48
Hi everybody,
I'm aware that it has been a while since the last time we gave news to you. Be reassured, the project is moving on and here we are to give you some news.
Today, I am very proud to announce that we have managed to release the alpha version of PlayOnLinux and PlayOnMac 5 (aka Phoenicis). I would like to give my special thanks to those who have continued the work I started few years ago: @plata and @madoar, and many others.
You can download the binaries here: https://repository.playonlinux.com/PlayOnLinux/5.0.0-alpha1
So, what's new?
In one word: everything. First, the interface has been completely redesigned: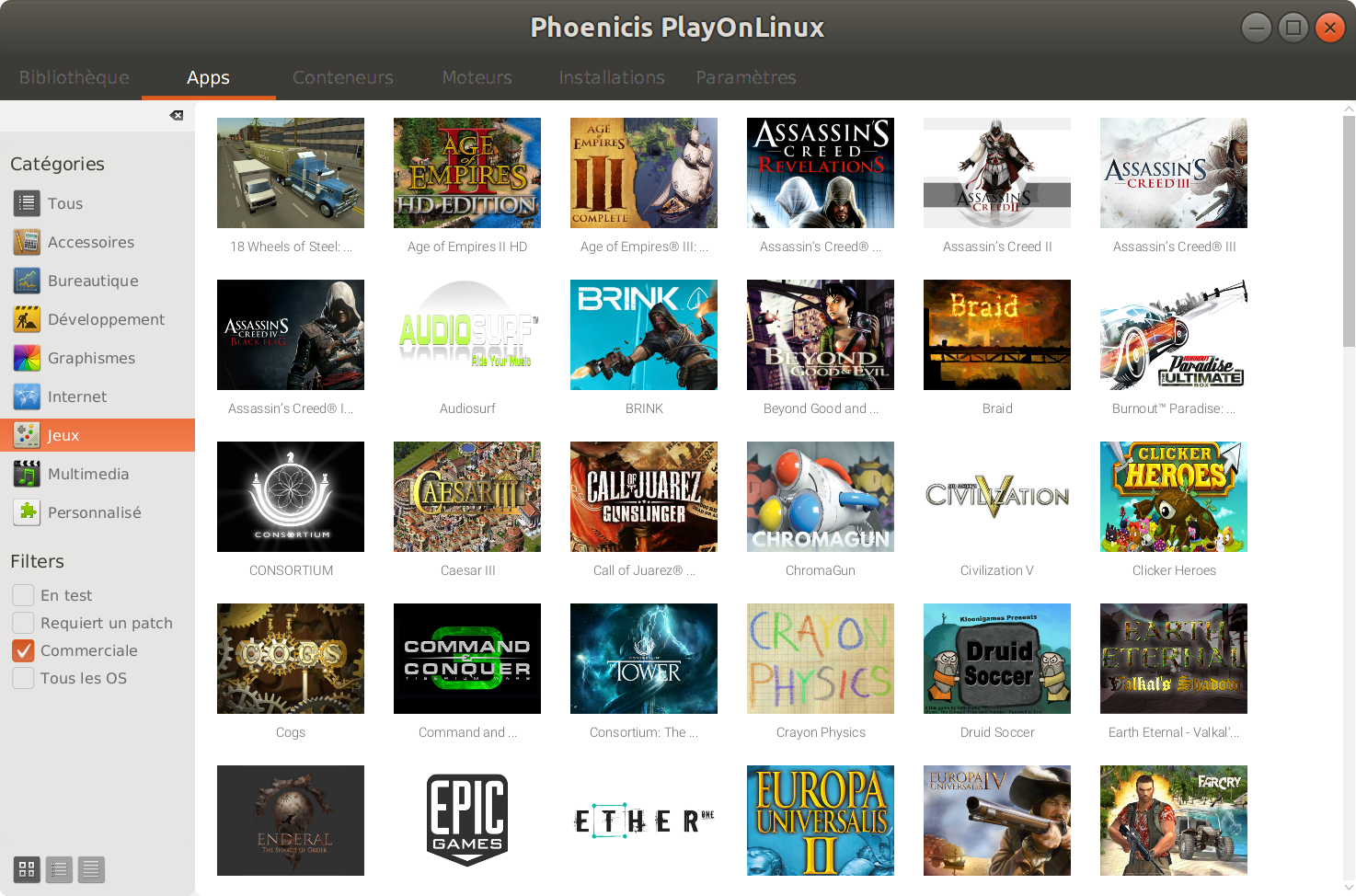 Phoenicis is a completely rewritten piece of software that aims to bring you all the features of PlayOnLinux 3 and 4 (a.k.a Arietis) with new principles:
The platform is decentralized, meaning that the program will continue working if our website encounters problems. We have chosen to store the scripts on a git repository (https://github.com/PhoenicisOrg/scripts) so that it becomes more respectful of open source principles.
The script engine is an important ingredient that made PlayOnLinux so successful in the past. This is why we want to improve it. We need it to be more accessible to everyone. For that matter, it has been completely redesigned. We decided to get rid of bash in favor of Javascript.
This alpha version respects theses principles and supports about 135 games and many other apps. You can see the whole list here: https://www.phoenicis.org/apps
Get involved
We need to go further and find a way to gather your feedback. This is the reason why we are releasing an alpha-test version of Phoencis.
What's next?
The project is far from being finished. Our next steps are to develop a strong Wine build platform using modern virtualization and/or containerization solutions. Then, we will make a new website (hosted at: http://www.phoenicis.org) so that we can continue giving you the best support we can.
Feel free to send feedbacks and see you soon