Wednesday 12 December 2007 at 16:56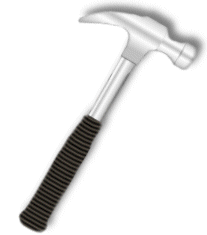 Hello folks,
I let you know that I started to create a tool to conceive your PlayOnLinux scripts the simply possible.
Why this tool?
First of all, it's normal that everybody don't want to learn the bash language (

) , or to search everywhere in the website to find various commands in order to create your script. That's why I tought to them, and have begun to write this PlayOnLinux's Auxiliary

.
How will it help us?
This tool will work in several windows and it will list different PlayOnLinux's commands in these windows. Tanks to these intuitive windows, PolScriptCreator will allow you to enter all parameters you want and it will include the corresponding command in your script (magic! Isn't it?

)
Cool, when will it be released?
The project is yet in an advanced state since are only lacking the implementation of all existing commands and a window each one of them. And you can believe me, it's a lot of work, an long and very repetitive work.
I don't forecast any release date because I prefer to test PolScriptCreator, ask for staff's opinion and release a satisfying and functional beta. Thereafter, this version will be open to your comments and then a stable version will be released. Other version will be developed when POL's evolutions will require it (changes of commands or functionalities).
Who will conceive it?
Zoloom (me), and probably only me. Other staff's members being yet busy, I don't want to give them on more source of work. Moreover, it made part of my skills

.
I will be the maintenor for the next versions.
Which functionalities will be added?
Maybe a synthaxic coloration, and an assistant to create "pre-made" scripts. But I will no more tell you about it, you will have more details at the beta's release.
Here is a project of ambition which will increase the number of proposed, I hope so

Have a good day on PlayOnLinux.

By Zoloom
Saturday 15 December 2007 at 19:48
Available since November 30, 2007, here is the 0.9.50 Wine's release, a free implementation of Windows on Unix.
This new release bring:
- Completed I/O completion.
- Improved user credentials management, including Mac Keychain support.
- More Valgrinding.
- Lots of bug fixes.
To see detailed release's note, go to
the official announce's page
.
To downlaod binary packages for several systems and distributions, rendez-vous
HERE
.
By Zoloom
Saturday 15 December 2007 at 23:45
Here is a good stuff to fill your appetite of fresh flesh and massacre in any kind: Dark messiah Of Might And Magic
An excellent game that will give you good time ... will you choose to pass to the dark side?
This game will nevertheless ask you some particular attentions. For details, see the forum
HERE
.
Good Game to you
By GNU_Raziel
Thursday 13 December 2007 at 16:37
PlayOnLinux has from now on a multi-design system.
Here are the available designs for the moment:
- Défault: The one you can currently see
- PlayOnLinuxV2: The older design.
And here is the page to change the website's design:
https://www.playonlinux.com/membre/designs.php
By Tinou
Saturday 15 December 2007 at 19:49
After more than 10 rehandlings and a lot of advanced tests, I'm in measure to announce you that Command And Conquer 3 is perfectly usable with POL 2.x again.
The installation script offers you to compile by yourself a git version of WINE for C&C3 or to use POL's one.
The patch script has been updated and it install now the patch's 1.09 version, i.e the last version.
You will even be measure to play online
For details, see the forum:
HERE
Good Game to you
By GNU_Raziel
Friday 23 November 2007 at 19:55
The Catalyst's brand new version,the ATI video card's driver, was released yesterday.
This update provides:
- Harmonization of Linux versions numbers with Windows's ones. Thus,the Linux driver is now named Catalyst 7.11 (for 2007 november,it's the same classification system as Ubuntu) instead of Catalyst 8.43.x.
- Linux 2.6.23 kernel support.
- Support of new RV670 chipsets,i.e Radeon HD3850 and HD3870 cards.
- Fixed problems with RS690/RS740 and XCB chipsets.
- ...
Complete release's notes are available
here
.
Download:
ATI Catalyst 7.11 according to your operating system
Sources :
Alionet
&
QuébecOS
Thursday 22 November 2007 at 18:49
Hello,
PlayOnLinux's site release 2.5 is out!
More light, clean, and simple to use...
Enjoy!

Wednesday 14 November 2007 at 21:59
EDIT : I forgot the chmod. For those who have had problems with dosbox-support (Z: during the loading of the game), download the.deb again, delete $HOME/.PlayOnLinux/dosbox/ and everything will be ok.
Yes you heard it well, PlayOnLinux 2.0.3 is out. Here's a summary of the new stuff:
The big move: dosbox !
Some games are installed under DOS and run with windows or vice versa. A good number of games actually.
The aim of PlayOnLinux is to give the biggest support for windows applications to run under Linux. But some of these applications run with DOS despite they've been made for Windows 95/98.
It's the case for Warcraft II.
So we installed a DOS support for PlayOnLinux through dosbox. I created a library PlayOnLinux (available in a seperate pack) that allows dosbox to use a wine prefix in a way.
You can check the result by yourself with Warcraft II :
https://www.playonlinux.com/images/war2.png
closing the
You'll notice I can run the map editor designed for Windows and the game designed for DOS in the same time.
I put a depot called dosbox that will activate if the pack Playonlinux-DosboxSupport is installed. I made a script for Warcraft II by the way.
Other changes:
- Sometimes minor changes. For instance check_cdrom ask for the mount point when it's not found instead of cancelling the installation.
- Changes in the text message when updating that could be confusing.
Download it here:
- https://www.playonlinux.com/fr/download.html
Enjoy

Monday 12 November 2007 at 7:53
Here's the 3rd PlayOnLinux v2, please welcome PlayOnLinux 2.0.2!

What's new:
Integration of wine booster 2 that allows better onfihuration of wine.
Integration oj wine GIT that allows to compile the very last version of wine.

Many thanks to GNU_Raziel for this version.

By the way we've rewritten the script system for users.
Sunday 11 November 2007 at 1:33

Last Man Standing (LMS) is a mod for Doom 3 which particularity is to propose an adventure in cooperative mode (but a single player mode is also available). Developed by Platinum Arts, this game's aim is to bring the classic Doom experience back.
Here's the list of the main features we can find in this 3.5 version:
* Compatible with the Doom 3 1.3.1 Patch and Doom 3 Steam Version
* Faster Map Loading Speeds and over 70 maps tuned for Coop play!
* A huge list of bug fixes
* New LMS theme song!!! Also check the lyrics out in the Doc folder, they rock!
* All of the zombies will now ragdoll
* Lots of SP Coop tweaks including improved spawn points, starting map weapons, and lag tweaks!
* Nine new maps are added from TA_Alucard that are prefixed with TS which stands for Training Simulation. Check them out and let us know what you think!
* Old LMS favorite Prog_Doomship is back with many fixes!
* Prog_Sewer and KF_Arena have received numerous updates thanks to The_Master!
* Colors on players nametags now reflect armor amount.
* Fortcomp has received some tweaking!
* Many various map tweaks and fixes
To get Last Man Standing 3.5, rendez-vous at
the Platinum Arts's download page
. It is available for Windows and Linux systems but unfortunately not yet for Mac ones (By the way, if you are interested in helping them, you can contact them at
this adress
).
Up Coming stuffs after this release :
* A map pack is on its way
* The LMS soundtrack release is in planning
* In addition there is a possible major development on the way that they will post about hopefully soon.
Interested ? More information on
Last Man Standing's website
.