Saturday 12 July 2008 at 23:24
Hello everyone

This is an uncommon news that you are reading. Indeed, this isn't a simple script announce but, above all, a request for testing SimCity 4's script.
Why?
For several reasons. The first one is the popularity of a game such as SimCity 4. Nostalgics will remember all the hours spent on SimCity 1, SimCity 2000 (available in POL), SimCity 3000, and, since 2003, SimCity 4. Allowing thousands of Linux users to play to this famous
city-builder
is an interesting, and above all an important task so.
The second reason of this request is the script's complexity. It's certainly not the most complex one, but it's long, has some particularities, etc...
Finally, if I ask for tests, it's also because there is numerous messages in the script, in French and in English. I invite people who well master English to report to me my translation mistakes.
You will find the script here
:
https://www.playonlinux.com/en/topic-1793-SimCity_4.html
I ask you to answer to few questions, after testing the script and some minutes of gaming:
Does the game runs correctly?
Is display working correctly?
Set the game's resolution to 1280*1024, is the game in full screen?
Does the sound works correctly?
(Please answer in the forum's dedicated topic above, and feel free to include some screenshots)
If tests are conclusive, then the will be integrated to PlayOnLinux's repository.
By Toumeno
Friday 11 July 2008 at 19:39
Available since July 11th, 2008, here is the Wine's development release 1.1.1 (the second development version since release of Wine's first stable version), a free implementation of Windows on Unix.
This new release brings:
- Fixes for Photoshop CS3 and Office 2007 installers.
- More progress on gdiplus.
- Support for Unicode files in regedit.
- Improved video playback.
- Many Richedit fixes and improvements.
- Various bug fixes.
To see detailed release's note, go to
the official announce's page
.
To download binary packages for several systems and distributions, see
HERE
.
Friday 11 July 2008 at 19:30
PlayOnLinux is appeared in the press for the fifth time.
The Planète Linux French magazine wrote a brief about PlayOnLinux version 3's recent release.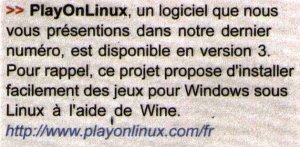 Here is the brief's translation:
>> PlayOnLinux, a piece of software that we did present to you in our last issue, is available in version 3. As reminder, this project propose to easily install Windows games on Linux with Wine's help.
https://www.playonlinux.com/fr
This article has been added to
the press page
By Tinou
Wednesday 2 July 2008 at 23:44
Hello everybody!
Your favorite program's 3.0.8 version is arrived.
Here is what's new:
- New function for the developers: POL_SetupWindow_checkbox_list allowing to create a window with boxes to tick (see the screenshot)
- French, Hungarian and Spanish support in the integrated chat
- A lot of confusions are fixed. For example, the repository's update button which was incorrectly named "Program's update"
- A fixed bug with default Wine's version (in options)
- A large number of translation bugs also fixed
A little picture: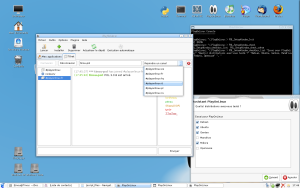 I think it will be the last version of the 3.0.x.branch. The 3.1 version's development will start soon.
By Tinou
Wednesday 2 July 2008 at 23:28
PlayOnLinux just make its fourth appearance in the (French) press. (We don't know for the other language papers so feel free to report it to us if it would happen)
We thank "Linux Pratique" for the following article, appeared in their magazine (N° 48) at the seventieth page.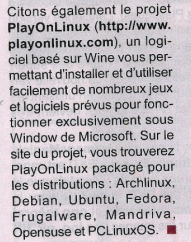 Here is the translation of the article:
Let's mention also the PlayOnLinux project (https://www.playonlinux.com), a Wine based piece of software allowing you to install and easily use numerous games and softwares designed to run exclusively on Microsoft's Windows. On the project's website, you will find PlayOnLinux packaged for the distributions: Archlinux, Debian, Ubuntu, Fedora, Frugalware, Mandriva, Opensuse and PCLinuxOS.
This article had been added to
the press page
By Tinou
Sunday 29 June 2008 at 23:05
Hello everybody,
I'm ashamed ... very ashamed .... and I'm maybe not the only one ... because we forgot to signal something important!
This is the birthday of someone important on the website ... yes! Tinou!
Despite our late (for me, it was done the 26th, so 3 days of late!) or the probable ignorance of his birthday's date for someones, we wish him an happy birthday to the
big shot
big boss Tinou who celebrate his 17 years. Here is a beautiful cake to be forgiven.
By the way, we thank him for his exceptional work, he spend a lot of time for this noble cause, and working with him is an honor and a pride.
Happy birthday to him!
Zoloom runs to hide in order to avoid the divine wraith ... but this news will be removed tomorrow at midnight.
By Zoloom
Sunday 29 June 2008 at 22:43
Hello everybody,
Who doesn't wait impatiently for the sequel of this best-seller RTS?
We hope this wonderful game will be Linux compatible (OpenGL used to be available in all Blizzard's games).Despite the numerous rumors we can find on the Internet since the game's announcement, a realistic release date would be appeared on three big American sellers' website:
Best Buy
Circuit City
GameStop
So this date would be the:
3th of December 2008
.
It matches with what Blizzard announced, that is to say a release during the end of 2008.
Despite it isn't
an official date
, it would be strange that these 3 online shops would have announce this date by chance.
Wait and see
.
Links:
Source (fr)
Official website (en)
By Zoloom
Sunday 29 June 2008 at 22:21
Hello everybody,
The first development version of Wine after their stable version (1.0) was released 2 two days ago, in the evening.
So this "unstable" version brings the usual number of new features and improvements:
* Many more gdiplus functions implemented.
* Improved graphics tablet support.
* Many Richedit fixes and improvements.
* Support for HWND_MESSAGE windows.
* A lot of new MSHTML functions.
* Many fixes in MSI registry handling.
* Initial implementation of the inetmib1 DLL.
* Improvements to the quartz renderers.
* Various bug fixes.

A number of bugs were fixed, as listed in
this page
.
See you in two weeks for the next development version.
Good evening on PlayOnLinux.
By Zoloom
Sunday 29 June 2008 at 22:07
Hello everybody,
This minor version only brings IRC related improvements.
What's new:
- The integrated IRC client was improved, notably to ease the discussions via private message, as you can see
HERE
and
HERE
. (Actually, this improvement was introduced in the 3.0.5 version but 3.0.7 one was released only few days later)
- Due to some issues with the PlayOnLinux's IRC server, the integrated IRC client now connects you directly at irc.freenode.com, on the #playonlinux channel
Other new thing, independent from the POL's version: there is one channel per language.
So you can now join one of the following channels, depending on the language you want to speak:
#playonlinux-fr
#playonlinux-it
#playonlinux-pl
#playonlinux-ru
#playonlinux-hu
#playonlinux-es
Therefore, we will only accept English on the #playonlinux channel.
Good evening.
By Tinou
Sunday 29 June 2008 at 21:34
Hello everybody,
We couldn't carry on regardless of a such event: after 15 ans of a fastidious development, Wine's 1.0 version (stable), preceded by 5 Release Candidates, is available.
Announced as mature, this version did yet shown that it was able to run almost every Windows application.
This version only brings bug fixes to correct the large number of malfunctionings of the older versions.
Here are the main fixed bugs, from the changelogs on the official website:
Version 1.0 rc1
Version 1.0 rc2
Version 1.0 rc3
Version 1.0 rc4
Version 1.0 rc5
Thus, many applications and games did benefit from tweaks.
We congratulate the Wine project and all its contributors who did manage to bring an efficient solution to run our favorite games under Linux. We thank them for their exemplary work.
Good evening on PlayOnLinux.
By Zoloom